Please select a destination from the drop down menu below.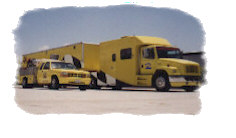 It all started when Lance Winslow was 12 years old. he rode his bicycle to the airport everyday because he wanted to be a pilot when he grew-up like his Dad. Here is an article of young Lance in 1979, 2 years after he started.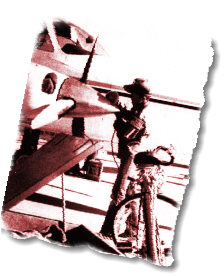 Boy, 14, cleans, waxes planes
His business is soaring
by SANDY SMITH RYDER
Assistant News Editor
"Washing and waxing is what we do, and if you want it done, we'll do it for you! It looks mighty fine with our brilliant magnificent shine!"
So the service of speedy Waxers, a company run by Camarillan Lance Winslow, is publicized at its base of operations at Camarillo Airport.
Speedy Waxers is well-known to those who own airplanes at the airport. Many of them rely on Lance and his four-person crew to wash, wax, degrease, and polish their airplanes.
Since going into business last September, he has waxed many of the planes at the airport and currently is booked a month in advance between regular customers and special wax jobs.
It's not unusual - except that Lance is 14 years old and already has a branch operation and six employees.
"He's just terrific," says Janie Oberman, office manager at Channel Islands Aviation which relies on Speedy Waxers for wax jobs for its planes. "He's such a nice responsible young man and he's such a pleasure to have around. Nowadays it's hard to run across someone with a lot of drive and ambition. he's polite and works really hard, even has his own business cards."
"We're all inn love with him around here," admits Karen Schneider, receptionist at Channel Islands.
"He's here way before I am. He works from dawn to dusk on the weekends. He's unbelievable...he's got more money than I have," Teresa Brabec, another Channel Islands employee, pointed out. "For such a young kid he's got so much ambition. He's going to go far."
Lance, a student at Monte Vista Intermediate School, hasn't had organizational business problems because his 12 year-old sister, Carrie, acts as his secretary, typing his reports, making receipts and designing advertising.
Lance said he used to do yardwork and wash cars for extra money, but through his membership in Civil Air Patrol ("Its purpose is to develop dynamic aerospace and leadership individuals for the future," he says), found himself spending his Wednesday nights at the airport.
that led to bumming rides from people who park planes at the airport - until his parents objected to him going for rides "with every tom, Dick and Harry," as he explains it. "My mom and dad told me if I was going to be out here so much, why didn't I find something to do at the airport," Lance said.
Lance has been in love with planes all his life. His father, ray, is a continental airlines pilot and the family owns its own plane ("a Piper Colt - it's like a TriPacer only with two seats," he explains).
At first airplane owners told him to stay away from their planes. "They said the didn't want a little kid around," explains Lance, who is short and therefore doesn't look 14. "But soon they got to know me better and I started getting jobs."
He estimates he has taken care of about 50 planes at the airport with the aid of his current partners, mark Daily and Andrew Rice. He has four regular customers during the week and six planes in line for a wax job. He pays his employees a minimum of $1.25 an hour to start to a maximum of $2.50 0 if they're dependable.
"Kids aren't reliable," he said. "You can't trust them at all (to show up on time). You just can't find kids who are reliable and responsible and nice." He recently fired two of them.
His maintenance jobs typically include washing the plane, mirror glazing the windows, removing grease and bugs, greasing flap tracks, cleaning oleo struts, checking to make sure there is no grease under the seals, and shining the prop.
Speedy Waxers' Oxnard Airport operation is run by Chris Bell and Bill Sherman, who pay him 10 percent of their gross revenues for use of his name and advertising. "They're using my name and reputation and I don't want them to mess anything up," Lance says.
Lance says he's making a lot of money, how much, he doesn't know, because his mother, Sue makes him put it in the bank. He once offered to pay his mother rent, but she refused.
He knows he has enough money for new equipment, like a $20 equipment box and $20 ladder. he carries over $100 worth of wax in his equipment box and leases space from Channel Islands Aviation to store his equipment.
Lance spends every day after school and every weekend at the airport, commuting from Las Posas Estates on his bicycle. His large plans for his company include the purchase of a portable generator to permit him to use his buffer on the flight line and a golf cart or industrial flatbed truck to aid him in towing planes to the wash rack.
He's looking forward to the purchase of a steam cleaner, which he will rent out until it is paid for. He is placing hopes for making a lot of money on bringing electricity to the portable hangers the city is planning to install at the airport.
Lance, who has racked up 34 hours of flying time already, hopes for a career as an airline pilot or as an owner of his own business.
By the way, there's a special percent offer on now on all Cessa 182's and Bonanzas. If you're interested, you'd better take advantage of the offer. Speedy Waxers is planning to raise its prices soon, there's just too much business these days.
Article reprinted from The Daily News, April 30, 1979.