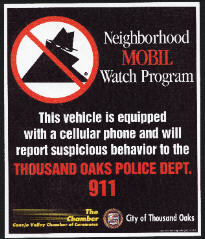 Lance Winslow is very involved in the community, and of course with his mobile car washing business. In Mid-1994 he put these two concerns together to spear-head a mobile neighborhood watch program. It seemed like a very natural progression of ideas. There are many people on the roads with mobile businesses such as Car Wash Guys, truck drivers, and delivery services. Many of these people have cell phones and can respond to emergencies or notify authorities of suspicious behavior. Following is a hand-written letter from Lance to Steve, with the Chamber of Commerce, outlining the program and the role of Chamber within it.
---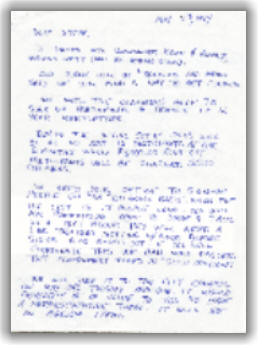 Dear Steve,
I talked with Commander Kemp & Grant. Harland West will be making signs.
Our budget will be $3,000.00 and Grant said he will find a way to get funding.
We need the chambers help to sign-up participants and promote it in your newsletter.
During the initial set-up, signs will be at no costs to participants. After six months, when the $3,000.00 runs out, participants will be charged $25.00 per sign.
We need your office to sign-up people on an "on-going basis". When the list is 15 people long, you will ask commander Kemp to come and talk with that group. They will need a one hour training meeting with video before signs are given out. If you will coordinate this we can move faster.
We will take it to the city council on May 24th Tuesday meeting. It would probably be of value to you to have an agenda item.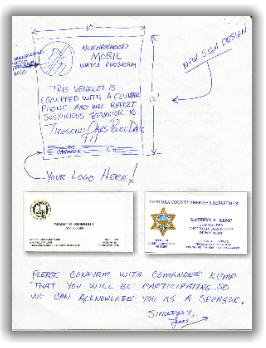 (layout of the new sign design)
Please confirm with Commander Kemp that you will be participating so we can acknowledge you as a sponsor.
Sincerely,
Lance
---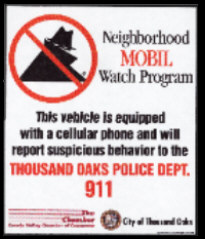 Here is a picture of the finalized sign layout.