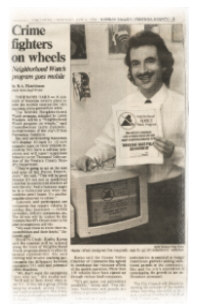 Crime fighters on wheels
Neighborhood Watch program goes mobile
by R.A. Hutchinson
Daily News Staff Writer
THOUSAND OAKS - A network of business owners plans to turn its mobile companies into traveling crime-prevention units.
The Mobile Neighborhood Watch program, initiated by Lance Winslow, will be a "Neighborhood Watch program on wheels," said Councilwoman Jaime Zukowski, co-chairwoman of the city's Crime Prevention Taskforce.
She said participating businesses will display 10-inch by 12-inch magnetic signs on their vehicles indicating they have a cellular telephone and will report suspicious behavior to the Thousand Oaks station of the Ventura County Sheriff's Department.
"They're going to act as the ears and eyes of the Police Department," she said. "This will be good because it's not just in residential areas but in commercial districts all over the city. And a business might be in a residential area when the residents aren't home. It's another possible deterrent to crime."
Zukowski said participants are companies that require vehicles to conduct their businesses - mobile carwashes, delivery companies, etc. The drivers will be trained by the Ventura Sheriff's Department to be alert to suspicious activity.
"We want them to know their responsibilities and their limits," Zukowski said.
Sheriff's Cmdr. Kathy Kemp said the concept will be tailored along the lines of Neighborhood Watch programs already in place in several communities. She said training will involve teaching participants the difference between emergency 911 calls and potential crime situations.
"We don't want the emergency lines tied up," she explained. "We'll talk to them about when to use 911. If they see a group of kids hanging around, acting funny, that's not an emergency. But if they see someone dragging someone into the bushes...then that's 911."
Kemp said the Conejo Valley Chamber of Commerce has agreed to coordinate the volunteer efforts of the mobile operation. More than 150 vehicles have been signed up through various local companies.
"It's got some real prevention possibility," Kemp said. "Our citizens, businesses and people are willing to get involved."
Zukowski said such community participation is essential as budget constraints prevent adding additional patrols in the community. She said the city's population is outstripping the growth in law enforcement personnel.
The City Council will discuss endorsing the concept of the mobile crime reporting operation at its 5 p.m. meeting Tuesday at City Hall, 2400 Willow Lane.
Reprinted from Daily News, June 4, 1994.