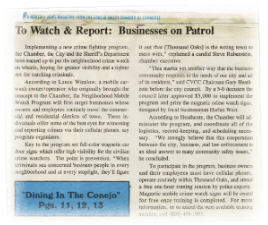 To Watch & Report: Businesses on Patrol
Implementing a new crime fighting program, the Chamber, the City and the Sheriff's Department have teamed up to put the neighborhood crime watch on wheels, hoping for greater visibility and a tighter net for catching criminals.
According to Lance Winslow, a mobile carwash owner/operator who originally brought the concept to the Chamber, the Neighborhood Mobile Watch Program will first target businesses whose owners and employees routinely travel the commercial and residential districts of town. These individuals offer some of the best eyes for witnessing and reporting crimes via their cellular phones, say program organizers.
Key to the program are full-color magnetic car door signs which offer high visibility for the civilian crime watchers. The point is prevention. "When criminals see concerned business people in every neighborhood and at every stoplight, they'll figure it out that [Thousand Oaks] is the wrong town to mess with," explained a candid Steve Rubenstein, chamber executive.
"This marks yet another way that the business community responds to the needs of our city and all of its residents," said CVCC Chairman Gary Heathcote before the city council. By a 5-0 decision the council later approved $3,000 to implement the program and print the magnetic crime watch signs, designed by local businessman Harlan West.
According to Heathcote, the Chamber will administer the program, and coordinate all of the logistics, record-keeping, and scheduling necessary. "We strongly believe that this cooperation between the city, business, and law enforcement is an ideal answer to many community safety issues," he concluded.
To participate in the program, business owners and their employees must have cellular phones, operate routinely within Thousand Oaks, and attend a free one-hour training session by police experts. Magnetic mobile crime watch signs will be issued for free once training is completed. For more information, or to attend the next available training session, call (805) 499-1993.
Reprinted from the Conejo Valley Chamber of Commerce's monthly news magazine, July 1994.