In North Ranch and Westlake portion of Thousand Oaks:
Mobile crime watch debuts for businesses
Calling all businesses: East Valley Sheriff's Department and the Conejo Valley Chamber of Commerce are seeking drivers with cellular phones or dispatch radios to become crime busters in the Thousand Oaks area.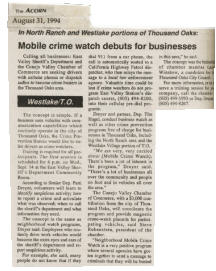 The concept is simple. If a business uses vehicles with communication capabilities which routinely operate in the city of Thousand Oaks, the Crime Prevention Bureau would like to enlist drivers as crime watchers.
Training is required for all participants. The first session is scheduled for 6 p.m. on Wed., Sept. 14 at the East Valley Sheriff's Department Community Room.
According to Senior Dep. Patti Dreyer, volunteers will learn to identify suspicious activity; how to report a crime and articulate what was observed; when to call the sheriff's department and what information they need.
The concept is the same as neighborhood watch programs, Dreyer said. Employees who routinely drive work vehicles would become the extra eyes and ears of the sheriff's department and report suspicious activity.
For example, she said, many people do not know that if they dial 911 from a car phone, the call is automatically routed to a California Highway Patrol dispatcher, who then relays the message to a local law enforcement agency. Valuable time could be lost if crime watchers do not program East Valley Station's dispatch center, (805) 494-8200, into their cellular pre-dial programs.
Dreyer and partner, Dep. Tim Hagel, conduct business watch as well as other crime prevention programs free of charge for businesses in Thousand Oaks, including the North Ranch area and the Westlake Village portion of T.O.
"We are very, very excited about (Mobile Crime Watch). There's been a lot of interest in the program," Dreyer said. "There's a lot of businesses all over the community and people on foot and in vehicles all over the area."
The Conejo Valley Chamber of Commerce, with a $3,000 contribution from the city of Thousand Oaks, will coordinate the program and provide magnetic crime-watch placards for participating vehicles, said Steve Rubenstein, president of the chamber.
"Neighborhood Mobile Crime Watch is a very positive program where several agencies have gotten together to send a message to criminals that they will be busted in this area," he said.
The concept was the brainchild of chamber member Lance Winslow, a candidate for the Thousand Oaks City Council.
For more information, or to reserve a training session for your company, call the chamber at (805) 499-1993 or Dep. Dreyer at (805) 494-8267.
Reprinted from the Acorn, August 31, 1994.