The following drain cover has been specially re-designed for use by The Car Wash Guys by the former City of San Jose Industrial Waste Inspector Team Engineer, Mr. Clifford R. Young. Mr. Young is also President of PRSI Environmental Consulting Services.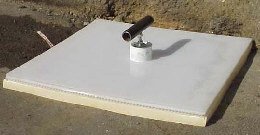 "Shield and Seal" Drain Cover™ (Patent Pending)
21st Century Storm Drain Protection Technology SM
Shield and Seal Drain Cover™
Covers drain completely (base fits over entire drain inlet)
Seals liquid tight (impermeable foam rubber gasket conforms to and seals off the drain inlet as latching mechanism compresses gasket against surface around drain)
Simple and quick installation (in less than a minute)
Lightweight (weighs less than two pounds)
Strong and sturdy (can support a 190 pound individual jumping up and down)
Base flexes to conform to contour of surface around drain inlet.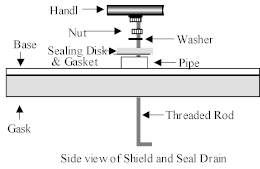 One Minute Installation Procedure
Step 1. Center the "Shield and Seal" Drain Cover™ over grate.
Step 2. Slide bottom end of threaded rod through pipe in the base and opening in the center portion of the grate.
Step 3. Turn handle approximately 90° and pull up to engage the bent portion of threaded rod with bottom of grate.
Step 4. Spin nut on lower portion of threaded rod in clockwise direction.
Step 5. Tighten down on nut until gasket makes good seal against surface around drain on all four sides.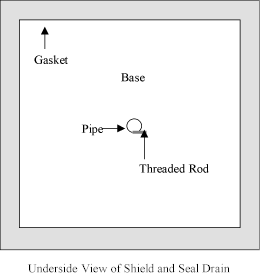 Specifications
Shield
Base - 5/8 inch thick (dual twin wall polycarbonate)
Gasket- 2 inch wide (resilient foam rubber)
Seal
Sealing Mechanism- 11-inch long, 3/8-inch diameter threaded rod, gasket covered sealing disk, nut and washer with 6-inch long handle
Total Weight less than 4 pounds
Available Sizes
Fits Drains up to
Price Plus S&H
20" X 20"
16" X 16"
$165.00
28" Diameter
24" Circular
$300.00
30" X 30"
24" X 24"
$300.00
30" X 40"
24" X 36"
$350.00
40" X 40"
36" X 36"
$380.00
Other sizes available upon request.
Purchase yours today by contacting:
cyoung@pollutionreduction.com
Pollution Reduction Services, Inc.
12 South First Street Suite 816
San Jose, CA 95113
(408) 937-8185 or (408) 595-1803
Download the PDF


Copyright 1993-2023, The Car Wash Guys. All rights reserved.
Site designed by: Rick Rome Creative