Berkeley Pit Superfund Site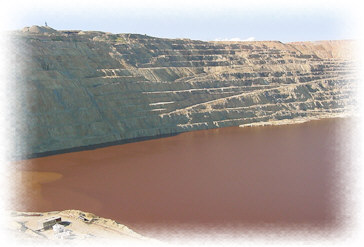 As many of you know the Copper Mines which are nearly all closed in the US due to falling Copper Prices in the 80's. Actually they had been steadily falling since the end of W.W.II. This Berkeley Copper mine owned by ARCO, provided nearly 80 percent of the copper in W.W.II. Many cities who relied on these mines to drive their economy have been hurt.
Here are some interesting sites to educate you on the Copper Mining Industry in the US. As you can see Northern AZ, Tennessee, Michigan and many other states lost many high paying mining jobs due to the copper prices and changes in metal uses. The US was not the only one to lose in the changing economic status of copper and mining. Also affected were the UK, Australia, Canada, Chile, Zambia, Japan,
What many people in this country fail to realize is how rich in minerals and resources this country really is. Our reserves of Oil, Copper, Iron, Sulfur, Natural Gas, etc. etc. is truly incredible and it is part of the reason we have been able to prosper as an Industrial Power House. Today our techniques of mining are obviously improved and much more technical. Wash Guy obviously have to stay abreast of new changes in the market to service the mining industry. http://www.washguy.com/mt/construction.shtml.
As you can tell some of the equipment in the mining industry is very huge and of course we charge them a little more than the average car. http://www.tractorwashguys.com/mining.shtml and check out our tour page too; http://www.tractorwashguys.com/tours.shtml.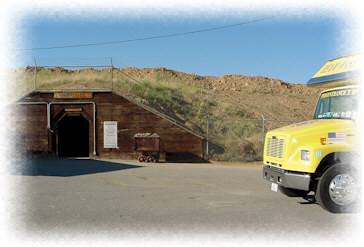 Now when a mine is closed we know a lot more than we did about ground water, underground aquifers, and environmental issues. Using precise computer modeling we can detect the possibility of underground contaminants and move to fix the problem. In this site there appears to be the possibility that contaminated water may seep into the aquifer and underwater rivers which lead to the Colombian Basin and into the Colombian River and end up in the Pacific Ocean by Astoria, OR. Although this site is nearly 5000 feet the water flows underground and into rivers leading to the ocean and can cause damage to the environment with the remaining iron oxides and acids. It can also pollute local ground water used to irrigate and drink and for livestock and other uses. Currently at Horse Shoe Bend they are building a customized reclamation facility to treat the water pictured in the closed copper pit while removing the valuable chemicals and copper floating within the soup. It is a Win/Win for ARCO, Super Fund Site Program, people of the valley and all those down stream who will also need clean water supplies to continue their efforts, from farming to fishing. We sure have come a long way towards "Cleaning up the World" Check out this site too: http://wwww.ewashguy.com.
Using such incredible technologies most Superfund Sites of the past that could have nearly bankrupted us trying to bring the contamination back into check are relatively easy to fix. We are so much better at mining, environmental knowledge and sub surface water knowledge now than in the past 200 years.
http://www2.q-city.com/shelbayreports/planning/gis_municipal_planning.pdf.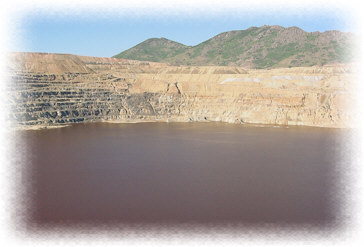 This technology will help the US comply with important environmental issues necessary to have clean air and water so we can live long healthy and productive lives and maintain the highest possible level of industrial output and a rich economy.
As we become smarter and more technically in tuned to the possibilities, we will be able to harvest the resources necessary with little or no damage to the ground water and we will be able to do it so efficiently that the economies of scale will provide the economic edge to be world leaders in mining.