Lance Winslow 's mobile command center
Lance Winslow is also a truck driver, driving the Mobile Command Center around the country and is testing special oil additives, and later plans to test bio fuels and alternative fuels in the truck over the next five years. The Command Center is scheduled for the installation of solar panels to run all electronics housed within and replace the two large fossil fuel generators on board. Lance offers his expertise to those companies and individuals who he believes are on the leading edge for modest fees as an outside consultant or board member.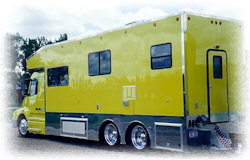 This mobile command center has visited every city in the United States over 10,000 in population over a seven year period. It also served Lance Winslow well during the peak growth years of the Car Wash Guys while he sold 187 franchises serving 450 cities, 100 major markets, 23 states and four countries. Having a corporate office on wheels allowed Lance to accomplish great things and monitor his growing empire of franchises.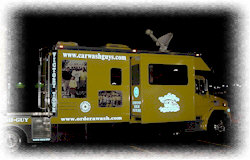 Lance has always loved innovation, and thus, he has set forth a concept to re-vitalize American ingenuity, invention, and innovation to bring the USA into the new millennium; Click Here
Lance's History | Lance's Charity Efforts | Lance's Companies | Lance's E-Books | Lance's Articles | Lance's Reading List | Lance's Interests | Lance's Mobile Command Center | Lance's Business Accomplishments | Essays by Lance Winslow | Sketches, Concepts & Invention Ideas by Lance Winslow | Lance Winslow on the FTC | Contact Lance Winslow