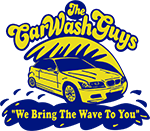 205 Crestview Avenue, Camarillo, CA 93010
Convenience…
Eliminate the hassle of going to a car wash, getting wet and not getting the results you want. The Car Wash Guys® brings the wash right up to your car. We have been doing this for decades so our technigues for getting your car glistening clean are finely tuned. Get the results you want without leaving your home or office.
Water Conservation…
The Car Wash Guys® uses methods and technology to achieve the lowest amount of water usage possible, on average this is under 2 gallons of water per vehicle.  We also have the capabilities for water reclamation, and can use drain cover technology to prevent any spill off into the drainage system, when we retrieve water spillage it is then clarified, recycled and separated.
Fast…
The Car Wash Guys® has, over the decades mastered the art of mobilizing car washing and detailing services for individuals and fleets. Our service professionals are fast and detail oriented and our techniques have been perfected.
Order A Group Car Wash…
We have a 5 vehicle minimum for on location services unless it is a very large vehicle such as a semi tractor/trailer or Motorcoach.
Organize your neighborhood friends, office associates, and call us to wash your vehicles, we come directly to you.  The areas that we serve include: Ventura & LA Counties: Agoura Hills, Calabasas, Camarillo, Lake Sherwood, Moorpark, Newbury Park, Oak Park, Ojai, Oxnard, Santa Rosa, Simi Valley, Somis, Thousand Oaks, Westlake Village, Woodland Hills, Wood Ranch, Ventura, & Malibu

Do you have a group that wants us to come on a weekly or recurring basis such as a neighborhood HOA, a group that works at the same location etc.?  If you have 5 or more vehicles to be washed on a recurring basis we look forward to hearing from you.
Call Us Today
Ecologically Sound & Friendly
We use an average of less than 2 gallons of water per vehicle washed.
Fast, on-site hassle-free service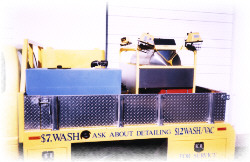 Car Wash Guys 60 gallon blue reclaim tank.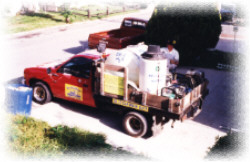 Original Reclaim/Recycled tank used in 1990.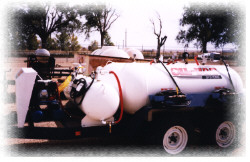 Oil-Vac system for industrial jobs.
Click here to view the "Shield and Seal" Drain Cover™ (Patent Pending)
ENVIRONMENTAL RECLAIM DEVICE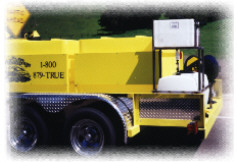 Mini-mobile clarifier-triple-tank for reclaiming and separating.
Open Weekly
from: 8am – 12pm Tuesday
from: 8am – 1pm Thursday
from: 8am – 5pm Friday
from: 5am – 7pm Saturday